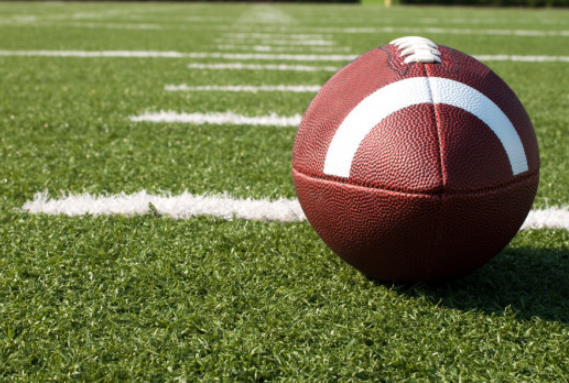 2022 PIAA District 6 Football Play-offs  Revised 10/17/2022  
$100.00 Play-off Fee
Payable to: PIAA District 6 c/o Ralph Cecere
85 Mountain Avenue, Portage, PA 15946
Play-off Meeting: Sunday, October 30, 2022, 10:00AM
Altoona's Mansion Park Team Room
In-Person (Pick-up Wilson GST Football, Submit Fee)
Virtual (No Travel or Wilson GST Football, Mail Fee)
Link provided in near future
Class A – 8 Teams PIAA play-offs: Host Week 13
Week 10: Top 8 qualify, Top 4 host
Week 11: D6 Semi-finals hosted at Top seeds
Week 12: D6 Championship @ Altoona, Date and Time TBD
Class 2A – 8 Teams PIAA play-offs: Host Week 13
Week 10: Top 8 qualify, Top 4 host
Week 11: D6 Semi-finals hosted at Top seeds
Week 12: D6 Championship @ Altoona, Date and Time TBD
Class 3A – 4 Teams (3 D6 1 D5) PIAA play-offs: Traveling Week 13
Week 10: If 4 enter, Top 2 Host
If 3 enter, Seed 2 Hosts , Seed 1 BYE
If 2 enter, D6 Championship at Altoona, Date and Time TBD
D9 Championship
Week 11: If 4 enter, D6 Championship @ Altoona, Date and Time TBD
If 3 enter, D6 Championship @ Altoona, Date and Time TBD
If 2 enter, D6 Champ vs D9 Representative or BYE (D6 SITE)
Week 12: D6 Champ vs D9 Representative or BYE if played Week 11 (D6 SITE)
Week 13: PIAA Play-offs
Class 4A – 3 Teams (2 qualify) PIAA play-offs: Host Week 12 & 13
Week 10: D6 Championship @ Altoona, Date and Time TBD. May need to be Saturday night if Altoona hosting on Friday.
Week 11: D6 Champion vs. D9 Representative (D9 SITE)
Week 12: PIAA Play-offs
Class 5A – 2 Teams PIAA play-offs: Traveling Week 13
Week 10: D6 Championship @ Altoona, Date and Time TBD or Bye for Seed 1,
D8 vs. D10 Regional Site TBD
Week 11: D6 Champion vs. D8 or D10 Representative* (D8 or D10 SITE)
Week 12: BYE
Week 13: PIAA Play-offs
Class 6A – 3 Teams PIAA Play-offs: Host Week 13
Week 10: If 3 enter, Seed 2 Hosts, Seed 1 Bye
If 2 enter, D6 Championship, Date, Site and Time TBD
D10 Championship or BYE
D8 Championship or BYE
Week 11: If 3 enter, D6 Championship, Date, Site and Time TBD
If 2 enter, BYE for D6 Champion
D8 vs D10 Regional Site TBD
Week 12: D6 Champ vs. D8 or D10 Representative* (D6 SITE)
Week 13: PIAA Play-offs
PIAA Play-offs –Top of bracket hosts through Week 13, if field and complex meet PIAA standards and the game is not a significant EAST/WEST travel situation. East/West that require significant travel may be scheduled at neutral location. Once teams reach the semi-finals, games will be scheduled at a neutral location.
Week 10 November 4 & 5, 2022
Week 11 November 11 & 12, 2022
Week 12 November 18 & 19, 2022
Week 13 November 25 & 26, 2022
Week 14 December 2 & 3, 2022
Week 15 December 8, 9, or 10, 2022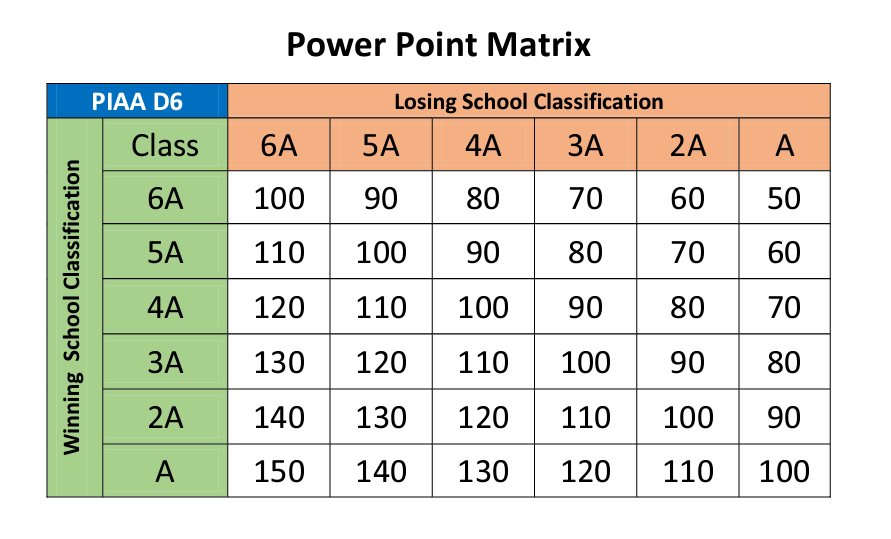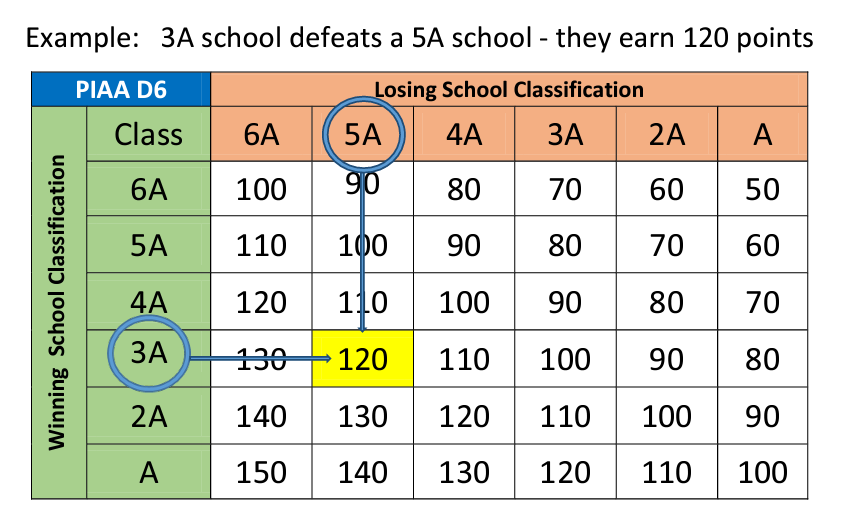 TIE BREAKERS
Ties in the "total points" column shall be resolved as follows:
Head to Head
Record vs. Common Opponents
Opponents' Winning Percentage (all 10 games)
Coin Toss
FORFEITURES
The PIAA District 6 committee will hand down a decision when a team with clear intentions of fielding a program subsequently must forfeit due to numbers that make it impossible to field a team, or obvious safety concerns related to low numbers. The committee's decision will be final.

A team forfeiting/violating a contract to better their standing or without legitimate reason as determined by the PIAA District 6 committee may face further sanctions imposed by the committee.
10 GAME SCHEDULE
As schools have been given the autonomy to create leagues in District 6 athletics, a football team unable to find a 10 game schedule risks not earning points during an open week. In addition, those that have competed against that team may not earn additional power points the week said team sits idle. The PIAA District 6 Committee will make the final decision.
BONUS POINTS
In addition to points earned for a victory, teams will earn 10 additional points for every victory of an opponent they have defeated throughout the season. Example: Team A defeats Team B who has a 8-2 end of season record. Team A will be awarded 80 extra points for Team B's 8 victories.
OUT-OF-STATE / NON-PIAA OPPONENTS
Any PIAA District 6 school competing against a non-PIAA or Out-of-State opponent should report the school's name, state and enrollment figures to Mr. Tom Elling (sports@blkline.com). Classification will be determined by comparing the school's enrollment to the PIAA enrollment thresholds.