PIAA District VI
Competitive Spirit
Site: Altoona Area High School Fieldhouse
Date: December 10, 2022 – Saturday
Time: 10:30 AM (Team check in begins at 9:00 AM)
Entry Fee: $100 check payable to PIAA District VI is due with entry form by November 14, 2022.
Mail entry forms and payment to:
Molly Hoover
162 Flickwood Drive
Julian, PA 16844
Site: Altoona Area High School
Spotters: All schools competing should supply their own spotters if needed.
Medals/Trophies: Will be awarded to the top team in each of the four divisions, provided there
are at least two teams in the division.
• 3A schools will have 1 qualifier moving forward to the state
competition
• 2A schools will have 8 qualifiers moving forward to the state
competition PLUS 2 additional qualifiers as a result of District 5
competing with District 6. A total of 10 2A teams will move onto
the state competition
Score Sheet: At the District VI level, judges will use the score sheet that will be used at the State
Competition on January 27-28, 2023.
Changing Divisions: Teams may not change divisions once their entry forms have been
submitted.
Music: Music must be emailed in MP3 file format to the DJ by Friday, Dec 2, 2022 to
Thomas.Hoover@gmail.com
Spectators: Doors will open one hour before the competition begins. Noisemakers are prohibited.
Tickets:
(THIS is VERY important) **
ALL tickets $8.00 will be on-line through Hometown Ticketing
Tee Shirts: Preorder t shirts will $10 each. You will receive them at the competition. We will not
have any available to purchase at the competition. You must pre-order them. Orders will be
fulfilled through Jody Rainey jrainey@homercenter.org.
Pre-competition meeting: Meeting will be held at 9:50 AM for the following people: the District VI
chairperson, site manager, one judge, and the head coaches from the competing schools to review
the PIAA Sportsmanship Message and conduct all necessary pre-competition business.
Practice/warm-up: Squads will be permitted warm-up times prior to competition. Teams will be
provided a warmup schedule and competition schedule one week prior to the event. Teams will
have six minutes to stretch and seven minutes on the mat.
Questions may be directed to Molly Hoover @ 814-360-3885 or mhoover@basd.net
Purpose of Competitive Spirit: Competitive Spirit was adopted by the PIAA Board of Directors,
effective July 1, 2012, as an opportunity to expand competitive opportunities for girls. All eligibility
provisions of the PIAA By-Laws are applicable to student-athletes of competitive spirit squads, with
the exception of a PIAA-defined competitive spirit season: The defined regular season will begin
with the start of fall sports and conclude at the end of the winter sports championships. The PIAA
Defined Season is the period in which schools may participate in competitions. Tryouts, practices
after tryouts, attending/receiving summer instruction from an outside source (key to the safety of
competitive spirit programs) and practices prior to the start of fall sports are not restricted by this
Defined Regular Season.
Governance: PIAA Board of Directors has adopted the NFHS Spirit rules book. PIAA, in conjunction
with Universal Cheerleaders Association (UCA) and American Association of Cheerleading Coaches
and Administrators (AACCA), will develop the format for the PIAA Competitive Spirit
Championships. UCA is the founding member of the American Association of Cheerleading Coaches
and Administrators, a non-profit educational association for the over 70,000 cheerleading coaches
across the United States. Founded in 1988, AACCA is the recognized standard of care for all
cheerleading activities. UCA is dedicated to the safe and responsible practice of cheerleading, and
all UCA Instructors are AACCA Safety Certified and use the AACCA Safety Manual as a teaching guide
and resource. UCA also implements the AACCA safety guidelines at camps and competitions and
encourages all coaches to become AACCA Safety-Certified. AACCA certification is available in all 50
states by taking the accredited four-hour course and, upon completion, remains in effect for 4 years.
Over 20,000 coaches have been AACCA certified since 2000. At the high school level, AACCA
certification is already a requirement to complete the Bronze Level NFHS Spirit Coaches Education
Program.
Contest Officials: Competitive spirit judges do not register with PIAA. They are retained by the
Tournament organizers under standards set by the Tournament organizers and will utilize NFHS
spirit rules. PIAA Competitive Spirit judges will be contracted by UCA. Judges will have extensive
training in coaching, choreography, and championship judging. Judges decisions are final.
No Protest Rule: Under PIAA guidelines, there can be no protests of contests as follows: "The
Board of Directors and District Committees will not consider any protests in Contests, which are
based on play situations or officials' decisions involving interpretation or judgment of plays. In no
case will the results of a Contest be reversed nor will a Contest be ordered or permitted to be
replayed. Questions regarding interpretation of rules or judgment of officials should be submitted
in writing to the Executive Director."

Uniforms/Jewelry: A coach shall not permit a team to participate if, in the judgment of the coach,
the participant's hairstyle or fingernails to not conform to NFHS and PIAA rules. It is required that
participating member schools dress and equip their Teams pursuant to National Federation of State
High School Associations (NFHS) Spirit Rules 2-3.
Uniforms shall be functional and meet the school's approval. Apparel must also be safe and
conducive to safe physical activity. All midriffs and torsos must be covered.
For safety reasons, sequins/glitter are not allowed on uniforms. In addition to safety consideration,
sequins/glitter are not functional or necessary.
Glitter that does not readily adhere to the body or face is prohibited. A sign that has glitter that is
sealed by laminate or other means is permitted.
Jewelry is prohibited. This includes all jewelry worn on any part of the body. No body piercing
jewelry is allowed. Jewelry must be removed, covering with Band-Aids is not sufficient. Leather, string,
etc., placed in the holes created by body piercing are not allowed. If religious or medical medals are
worn, they shall be taped to the body under the uniform.
Routine: Overall time of routine is 2 minutes and 30 seconds (2:30) and must include a cheer. The
cheer can be stand alone or can be done over music. Teams cheering over music will still be
accountable for satisfying the components of the "CHEER" portion of the score sheet (i.e., a cheer
consisting of only motions performed to music will score a ZERO in "use of skills"). Be sure to read
over the score sheet specifics on the cheer portion.
Floor Size: 54 feet wide by 42 feet deep (54' x 42'). All participants must start with at least one
foot (hand) on the performance surface. Signs and props can be placed off the performance floor,
but participants cannot step off during the routine to get them.
Injuries on the floor: Routine can be stopped by competition officials, advisor/coach of the team
or the individual. Competition officials (in conjunction with the coach and individual) will decide if
the team will be allowed to perform at a later time. The spot where the re-performance will take
place is up to the discretion of the competition officials and coaches (considering all issues).
PIAA Championships Date: Friday, January 27 and Saturday, January 28, 2023. Venue: Giant
Center, 550 Hershey Park Drive, Hershey, PA 17033
POLICY STATEMENT FOR MEMBER SCHOOLS WITH CONDITIONS OF ENTRY INTO PIAA DISTRICT
SIX CHAMPIONSHIP: PIAA District member schools are not required to enter a team into PIAA
District VI Championship events. Entry and participation by member schools in the tournament
sponsored by PIAA District VI are totally voluntary. Entry of a team or individual competitor by a
member school into a PIAA District VI tournament signifies that the member school accepts the
conditions and provisions that are inherent with the tournament rules, regulations and guidelines.
Further, a member school accepts the fact that the PIAA District VI Chairman, Executive Committee,
Tournament Director and District VI Committee reserve the right to make changes in the
management schedule, sites, dates, times and operations of championships when in their judgment
it becomes necessary to do so.
Please Make a Copy of this Form before filling it out
Competitive Spirit Entry Form
PIAA District VI
Due November 14, 2022 with $100 check payable to PIAA District VI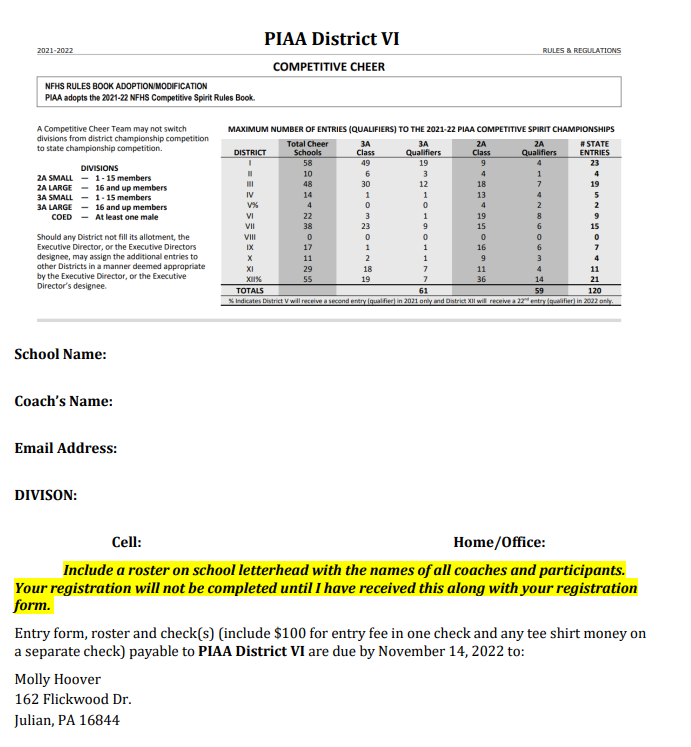 District 6 Championship Apparel